We have recently completed a selection of signs for RG Motors in Lincoln. They have purchased a new showroom building for their sales team to use and wanted all new signage that would stand out but look professional. One of the exterior signs is below.
One of the exterior signs is made from routered metal on stand-offs, to create an attractive shadow-effect. This has been positioned behind the photography spot for all their new cars! The sign has enabled them to keep their branding in each photograph, without having a big board or banner that they need to reposition each time. 
The second sign, inside the premises, is an illuminated foamboard tray sign. Before this, there were 2 illuminated signs in its place from the previous owners. We have covered the old frame and updated the LED's, then added the bright red sign you can see in the image to the right. This lights up with the main lighting in the building and can even be seen from the road on darker days! It's a great example of playing with brand colours and using what is already in the building, as this would have cost more than double to do from scratch.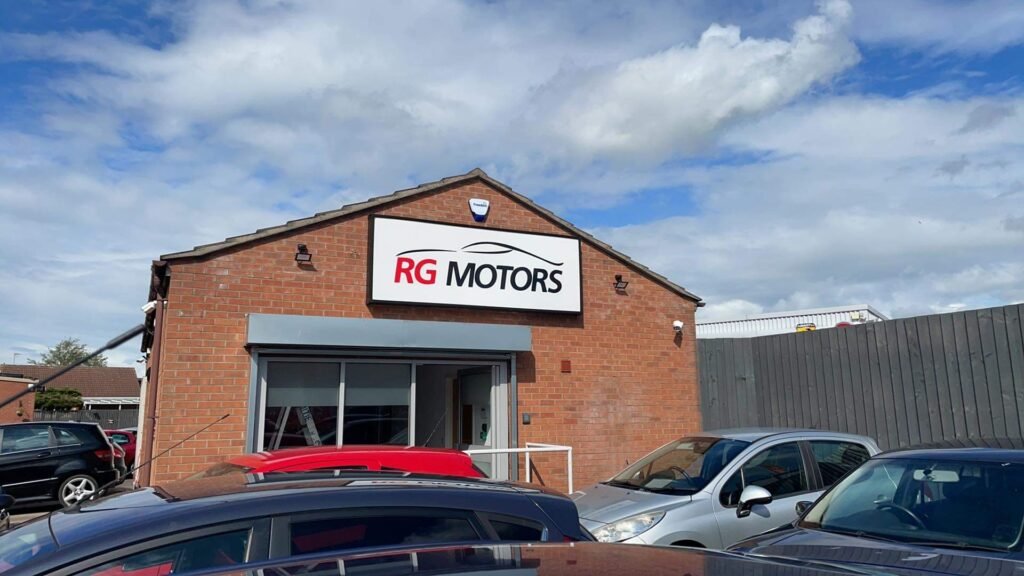 The final sign is the main sign, which is a PVC tray sign with a light-up acrylic front. It's fully weatherproof, made of similar materials to a conservatory, therefore we know it will stand the test of time. This integrates again with the indoor lighting so its an easy switch to turn it on and off in the evenings or to shine bright when the day is cloudy. 
This only took a couple of hours to fit, since the previous sign was already removed. It took a team of 2 to complete the job and we worked between rain, doing internal and external bits when we could. 
If you're ever driving down Dixon street in Lincoln, keep an eye out for the eye-catching signage at RG Motors!
Click the link below to go to the RG Motors website.